Sandra Glasgow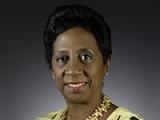 Sandra Glasgow is the founder and Managing Director of BizTactics Limited, a consulting company dedicated to nurturing growth-aspiring firms and promoting best-in-class corporate governance. BizTactics is a certified WEConnect International Women's Business Enterprise.
She is the former Chief Executive Officer of The Private Sector Organisation of Jamaica (PSOJ), Co-Chair of the Caribbean-Canada Emerging Leaders' Dialogue, the Senior Vice President for Corporate Services at the University of Technology, Jamaica, and the Founder of UTech's Technology Innovation Centre (TIC).
The TIC is credited with successfully transforming the operations of its precursor, the Entrepreneurial Centre, into a world-class business incubator for start-up technology ventures and a provider of a wide range of training, consulting and business services for entrepreneurial Jamaican firms.
A graduate of the University of the West Indies (UWI), Mona, in 1978, she holds a Bachelor of Science in Applied Zoology and Applied Botany; and a Master's in Business Administration, with a specialisation in the Management of Technology.
An accomplished trainer, Mrs. Glasgow has facilitated numerous training programmes and workshops in entrepreneurship, business development and strategic planning. For a number of years, she taught the course New Ventures and Entrepreneurship on a part-time basis for the MBA prgramme at the Mona School of Business, UWI.
Mrs. Glasgow was Jamaica's Eisenhower Fellow in 2000. She has served on several boards and is currently a member of the Boards of Directors of the National Commercial Bank Jamaica Limited, Resorts Beach Limited, eMedia Interactive Limited, Medical Disposables & Supplies Limited, YUTE Limited, Dress for Success Jamaica and Crime Stop.
She is the Mentor for Caribbean Producers Jamaica Limited and Medical Disposables & Supplies. She is certified as a Director by the Commonwealth Association for Corporate Governance, a Trainer of Trainers in Corporate Governance Board Leadership by the International Finance Corporation and a Trainer of Trainers in Business Ethics by the Inter-American Investment Corporation and the United States Department of Commerce.
Mrs. Glasgow founded the GEM Jamaica project and was Team Leader from 2005 to 2007.